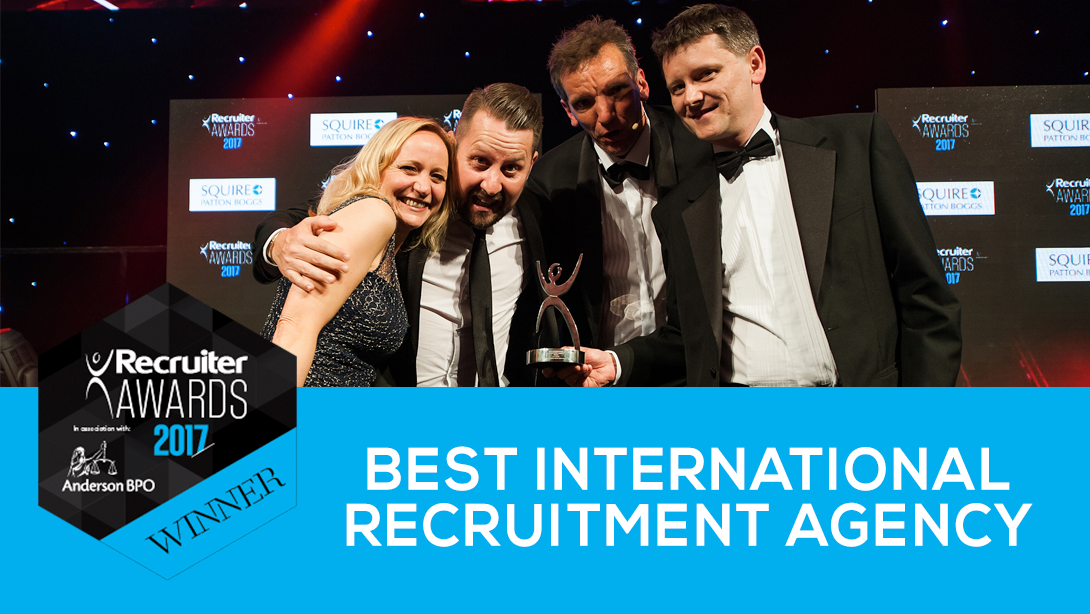 ICP Search takes the crown of Best International Recruitment Agency at the highly prestigious Recruiter Awards.
Last week saw the arrival of hundreds of recruitment professionals at London's Grosvenor House Hotel dressed to the max in stunning gowns and black tie tuxedos to celebrate a fantastic year in recruitment and to discover who would be announced as winners at the 2017 Recruiter Awards.
With 31 awards in total across various areas in recruitment, ICP Search was a finalist in two categories; Most Effective Back Office Operation and Best International Recruitment Agency. With stiff competition from companies such as Darwin Recruitment, SSQ and Fircroft and Gravitas Recruitment Group, who were just a few of the finalists, ICP Search knew they would be tough categories.
Despite the heavy competition, we are extremely proud to announce that ICP Search was crowned the winner of the Best International Recruitment Agency award. We are absolutely ecstatic with the recognition of the award.
The judges said "ICP Search demonstrated a truly personalised recruitment approach leveraging their international network and depth of research within a challenging and niche market".
"This is literally a dream come true" said Chief Executive, Gary Peters. "ICP Search has never worked harder than over the past 12 months and this award is the icing on the cake. Being recognised as the Best International Recruitment Agency really reflects the blood, sweat and tears the team has put in with various accounts all over the globe. I couldn't be prouder of an amazing team and we are looking forward to what's ahead."